Sensory development is an important part of early childhood education. As a preschool and daycare in North Vancouver, Langley and Coquitlam, we are no strangers to the fun and intrigue that sensory activities provide for young children. However, coming up with sensory station ideas for daycare and preschool classrooms can be a little tough. It does require some creativity.
In this article, we'll give you some ideas to help early learners explore their sense of touch, sight, smell, sound and taste. While of course we know there are more than five senses, these are the easiest ones to set up inside a classroom. So we'll keep things simple and stick with those.
See related on our blog:
1) Preschool sensory station ideas to explore the sense of touch
Touch can communicate very important information. If we touch something rough, it won't be as nice as touching something soft and fluffy. Human touch is how we communicate love and affection. And of course, touch is how we sense pain or pleasure from things like temperature.
When children learn how things feel, they learn how to handle those things to be prepared for future life experiences.
For example, learning how to bake bread requires knowing how to knead, squish and shape dough.
Touching wet sand teaches a child that dirt can be sticky! So, we need to wash our hands to get it off. Dry sand, on the other hand, can easily slip out of our hands! The more we squeeze it, the more it comes out!
Pouring liquid at different angles causes it to flow at different speeds. Playing with water teaches children how to control the amount they want to use in their application of it.
Try these sensory station ideas to help children explore their sense of touch:
Playdough and molding clay sensory stations
Create different colours of homemade playdough, or use store-bought playdough. Teach children to squish, roll and create whatever they want. You can also use modeling clays with different textures to do this. Provide children with playdough tools so they feel the pressure needed to 'cut' through it, make an imprint, cut out a shape, roll it flat and so on.
See our article on baking with children if you'd like to get them to work with 'real' dough:
Sand, coarse salt, cornflour and rice sensory stations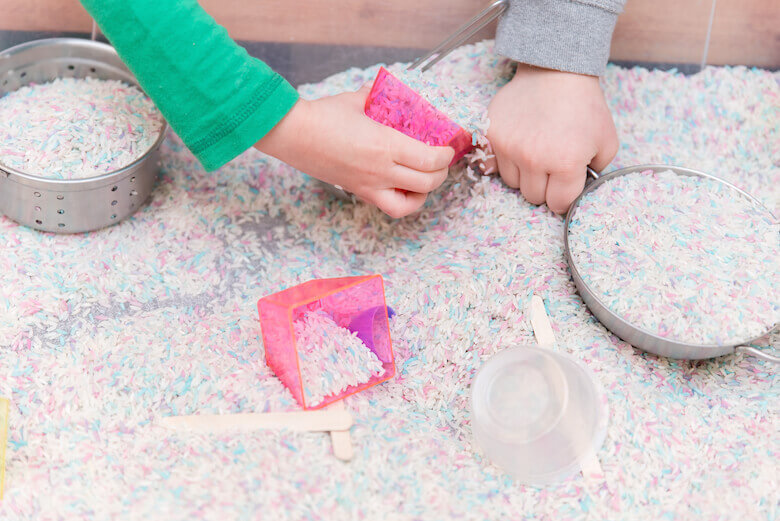 While sand, coarse salt, cornflour and rice are different textures, and could be in their own sensory bins side-by-side, they are similar in their characteristics. Children can scoop them with spoons, sift them, bury their hands in them, hide treasures in them, and just 'get lost' in them (in their minds, we mean!). They are very relaxing to work with.
Things change when they get wet. Sand gets more sticky and can be used to make sand castles or volcanoes. Salt dissolves. Rice can absorb water and change colour if food colouring is applied to it.
Try these ingredients in both dry and wet bins.
See our article on sand activities to learn what else you can do with this versatile teaching material:
Slime and foam sensory stations
There are several slime and foam recipes on the internet you could try for this one. Or you could buy them at the store. You can also use shaving cream for foam (add a little food colouring to make it interesting!).
These textures have a gooey, more messy feeling to them (which is good, by the way!). They also get everywhere, so be prepared with paper towels and clean up tools if need be!
Macaroni, beans, beads, buttons, marbles and rocks sensory stations
Macaroni, beans, beads, buttons, marbles and rocks can also each be in their own category, but we put them together because they serve almost the same purpose in a preschool sensory station. They are heavier to handle, they drop differently than sand or water, and they make 'click' noises as they knock on each other. They also have interesting visual stimulation (especially marbles or a colourful set of beads and buttons).
With this sensory station idea, you'll want to make sure children are fully aware not to put these in their mouths, nor to throw them.
You could also put these in the sand and rice bins, to add some variety.
Pasta can go in water until it becomes a squishy material to play with.
Pompom and fluff sensory stations
Filling a bin with pompoms will likely be easier than finding fluff. By fluff, we mean the filling that goes into stuffed animals or pillows. Both of these soft materials feel weightless.
Pompoms are fun to throw up in the air to see where they land (make it a game to pick them all up!).
You can also shoot pompoms down cardboard tubes from paper towel rolls, to watch them fall out the other side (this is more popular with toddlers).
Children can squish a bunch of them in a ball or cup to see if they stay that way (they won't!). Once they let go of the pressure on the pompoms, they'll bounce out their hands!
Water and ice sensory stations
Water sensory stations can be as simple as soapy, coloured water with sponges, cleaning brushes, scoops and squeeze toys. If you want to make it more interesting, you can add glitter to the water.
Some people give children spoon skimmers or slotted spoons and ask them to transport objects in the water to another tray or bin. You can call this 'rescuing' the objects. This helps with fine motor skills and balance.
To experiment, you can add flour to make the water 'mucky' and opaque. Add marbles or even squishy water beads for texture differences.
To help children learn about ice and cold temperatures, you can freeze little dinosaur toys (or other 'treasures') into ice cubes. As the children play with the ice cubes, they'll melt, releasing the toys inside!
2) Preschool sensory station ideas to explore the feeling of sound
Above we mentioned that macaroni, beans, beads, buttons, marbles and rocks make a 'clicking' sound when they are knocked together or played with. Actually, almost all of the 'touch' sensory bins can be used to develop sound skills too. For example, water splashing has a unique sound.
However, if you want to focus on making sounds in sensory stations, try the following ideas:
Bells sensory bin
Fill a bin with bells. They can be all kinds of bells.
For example:
Hand bells (i.e. school bells or cow bells)
Bicycle bells
Car bells (you know the kind you ring for customer service)
Jingle bells (the little round 'ball' bells, also called sleigh bells)
You can even use wind chimes or, if you can set one up, a door bell (there are doorbell toys too).
Let the children experiment with the different sounds that bells make.
Pots, buckets and spoons sensory station
We all know that a pot and spoon make an excellent drum, right?! Gather kitchen utensils, plastic bins, and even lightweight pots (or toy pots and pans). Allow children to make sounds by banging these together.
The harder they bang, the louder of the sound! Can they bang softly, to make a softer sound? Ask them questions like this as they play.
Musical instruments sensory bin
Of course, we don't expect you to bring 'real' instruments to the classroom (that could get really pricey!). But there are plenty of toy rattles, shakers, tambourines, rainsticks, guitars, xylophones and keyboards that can be used to help children learn about sound and tone.
Bubble wrap sensory bin
If you can get a hold of used bubble wrap, the popping sensation is very satisfying! See if children can pop them all! This is also a touch sensation.
Of course, we want you to be kind to the earth. So only use this material if you have some lying around from a prior shipment. Then, recycle responsibly.
Shredded paper and tinfoil sensory bins
While this one is a bit iffy because it can cause paper cuts, you can try to give children shredded paper as something they can squish. If you're worried about shredded paper, try tissue paper. Paper makes a crumpling sound when it is squished. So, it is an active way to experiment with sound.
The same goes for tinfoil, parchment paper or other types of lightweight paper.
You can also let children squish cardboard egg cartons.
3) Preschool sensory station ideas to explore the feeling of taste
Taste-based sensory stations can help children learn vocabulary and name things like "sweet," "salty" or "sour." They can also help children develop a taste for new foods, or identify foods based on taste.
Of course, washing hands to avoid spreading germs will be important with this type of sensory station idea. It will require more supervision than say, a sand tray.
Also, before doing this, you'll want to ensure you have checked on everyone's allergies. Have an epipen nearby, just in case.
If it's safe, try these ideas for sensory station ideas to explore the sense of taste:
Tea tasting sensory station
Of course, you wouldn't want to bring caffeinated drinks into the preschool classroom. However, there are several caffeine-free herbal teas that open up a world of flavours. You can make 'iced' versions of these, so that children won't burn their tongues!
Put tea flavours in little cups and ask children if they can identify apple, lemon, camomile, mint, cinnamon, licorice, rooibos and other flavours. You can do a blind taste test to make it more fun!
Remember: green tea has caffeine!
Of course you can do this with fruit juices too.
Jelly Bean sensory bin
Jelly Beans are packed full of flavour. And, they come in so many varieties of flavours too! While they are a little on the pricey side, you can give children say, 5 each in a little cup. Ask them to identify their flavours. They'll love the sugar in the candy too!
Snack tasting sensory bin
While this could be an activity you can do at snacktime, you can also set up snack sensory stations where children identify foods that are sweet, salty, sour or bitter (or a mix of these). For example, a cracker versus a cookie. Or a strawberry versus a piece of dark chocolate. A piece of cheese or a spoonful of jam.
You can use an endless combination of snack foods to try this. The goal is to help children learn to experience and identify flavours and tastes.
4) Preschool sensory station ideas to explore the sense of smell
Smell is similar to taste, yet different. We smell lots of things we don't necessarily want to eat. So this can be a lesson in what not to ingest, just as it can be a lesson on identifying smells.
Like with the food sensory stations noted above, you'll want to supervise this type of activity carefully. Also check in advance for any potential allergies in the classroom.
Try these sensory station ideas to explore sense of smell:
Perfume and coffee bean sensory station
Have you noticed that perfume counters at department stores sometimes have a little cup of coffee beans nearby? This is to help get the smell of a certain perfume out of your nose, to let you smell a new one. This way you can decide what you want to buy.
Spray different types of perfumes or colognes on pieces of paper, and let the children smell them. Ask them what they smell. Is it fruity? Musky? Something else?
Then, give them coffee beans to smell. Ask them if they still have the smell of perfume in their nose. What do they smell now?
Smelly candles sensory bin
You don't have to burn candles to smell their aroma. There are many types of candles that one can buy, in both small and large sizes. Prepare a variety of them, and put them near children's noses. Ask children to tell you what they smell. Is it cinnamon? Is it a flower? Is it a fruit?
There are even gag gift candles to make bad smells! See how the children take to that!
Food smells sensory station
Some foods have very noticeable scents. Try a sensory station where you ask children to smell the following types of foods:
Onion
Garlic
Coffee
Peeled potato
Peanut butter (unless someone is allergic)
Sesame oil (unless someone is allergic)
Butter
Cake mix
Vanilla
Cinnamon (and other spices)
Marshmallows
And so on.
Just like the blind taste test, you can try a blind smell test with this one!
5) Preschool sensory station ideas to explore the sense of sight
The sense of sight is hard to separate from all the other preschool sensory station ideas we've mentioned so far. However, you can use some tools to help children focus on how things look, to enhance their observational skills.
For example you can try:
Magnifying glass and binoculars sensory table
Using a magnifying glass, children can enlarge objects. With binoculars, they can enlarge things that appear far away, so they look closer. These are excellent lessons in how bent glass can change our perception of size.
Coloured glasses sensory table
You can provide 'regular' sunglasses, to darken a child's view when looking indoors or outdoors. Ask them why they think wearing sunglasses indoors is so much darker than when outdoors? How much brighter is it outside?
There are also coloured glasses that will turn everything a shade of yellow, orange or purple, for example. These can be a fun experience to try.
3D glasses sensory table
Bring in some 3D glasses and some 3D books. Have the children watch as the pages 'pop out' at them!
Holograms sensory table
Holograms are fantastic pieces of art, with trickery built right into them! Ask children to tilt the holograms until they see the other image!
Optical illusions sensory table
While advanced optical illusions may be hard for preschoolers to figure out, you can certainly use the most simplest of these to teach children about them. Ask children what they see, then ask if anyone sees anything else. Then, watch in awe as the children realize there's another image or shape to be seen!
Kaleidoscope sensory station
Kaleidoscopes are a fun, optical instrument to form several shapes and patterns that one can stare at all day. After viewing a few, you can ask children to draw or paint their own kaleidoscope pattern on paper!
Shadow puppets sensory table
Using flashlights, children can make shapes on the wall to see their fingers form characters in action! Shadow puppets make a fun game, and a science lesson. See our article on this topic at the link below:
Sensory bottles, hourglasses and lava lamps sensory station
Sensory bottles, hourglasses and lava lamps can be really calming ways to observe liquids move slowly and even to separate. They can also be used as a science lesson.
Sensory bottles can be made cheaply and easily using water, glue and glitter. This article has some ideas on themed sensory bottles you can make.
Snow globes could also work in this sensory station, though you'll want to be mindful of glass that can break easily.
Sensory stations are bucketfuls of fun and learning!
As we've seen above, sensory stations can be hours of fun, with several activities and materials to experiment with. You'll also notice that sensory stations can lead into other types of lessons or, they can be woven into lessons on other topics. For example, your preschool classroom can use playdough or sand slime to make a volcano, which can then produce a foamy substance they can touch, feel, hear and smell. This can then lead to a lesson on volcanoes.
Many of the preschool sensory station ideas we've mentioned above overlap in the senses they aim to stimulate. However, they can have a primary emphasis.
The above are just the beginning of ideas. Preschool sensory station ideas abound on the web! We encourage you to try your own combinations!
See more on our blog: